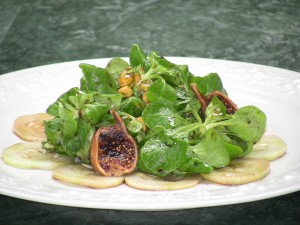 Salads
Arugula, beets, clementine, crispy bacon & pistachios.
Baby spinach, pecan nuts, plum & sliced parmesan cheese.
Caesar: romaine lettuce, grated parmesan & homemade croutons.
Caprese: Basil, mozzarella & tomatoes.
Corn, tomato, basil & avocado.
Greek: Tomato, cucumber, feta cheese & olives.
Mixed greens, tomatoes, & roasted cashews and manchego cheese.
Pears, walnuts, frissee & mache lettuce & blue cheese.
Panzanella: Tomato, cucumber, bread & radish.
Waldorf salad: Romaine lettuce, cucumber, apple, raisins, nuts & celery.
Watercress, walnuts, orange & radish.
Pasta
Angel hair with lamb ragu.
Beef lasagna.
Black ink pasta with mussels.
Campanelle with peas & mushrooms.
Fusilli & tomatoes sauce.
Home made gnocchi.
Lenguini with meatballs & tomato sauce.
Lenguini with lemon & garlic.
Penne rigatti with mozzarella, basil & cherry tomatoes.
Spaghetti bolognese.
Vegetarian
Avocado, tomato, corn & cucumber inside parmesan tuil.
Asparagus wrapped carrot, zucchini & balsamic glaze.
Baked Portobello gratin & warm tomatoes brunoise.
Eggplant roulade filled with mushroom, zucchini, mozzarella & basil. Tomato coulis.
Endives filled with goat (or brie) cheese, honey & nuts.
Lentil Milanese, tomato & asparagus.
Mini tart: creamy corn or spinach.
Mushrooms stuffed with herbs, aged gouda & mushroom, and tomatoes coulis.
Tomatoes filled with mascarpone pesto.
Vegetables lasagna.
Meat
Asparagus wrapped carrot, zucchini, balsamic glaze & prosciutto San Danielle.
Lamb slowed cooked with vegetables.
Meatballs (beef or pork) & roasted pepper coulis.
Prosciutto, melon & figs.
Sliders (braised or ground pork) with Russian dressing & melted cheese.
Stuffed mushrooms with braised short ribs.
Seafood
Clams oreganata.
Crispy rock shrimp & garlic aioili.
Fish fillet (what's freshest will be suggested) with spinach sauce.
Fish or crab cakes with cocktail sauce & microgreens.
Lobster tail beurre blanc sauce, tomato & potato.
Rosti potato, ccreme fraiche & moked salmon.
Shrimp cocktail & cocktail sauce.
Scallops sautéed, potato & parsnip puree & herbs coulis.
Tuna tartar or ahi, avocado mousse & pistachios.
Winter soups
Beef & barley.
Bisque (lobster & shrimp).
Butternut squash.
Corn chowder.
Corn & crispy shrimp.
Green power (broccoli, spinach, watercress & chicken).
Manhattan clam chowder
Minestrone (vegetables).
New England clam chowder.
Shiitake mushrooms & miso.
Summer soups
Berries.
Cool cucumber.
Gazpacho.
Melon.
Watermelon & mint.