Meet the Chef!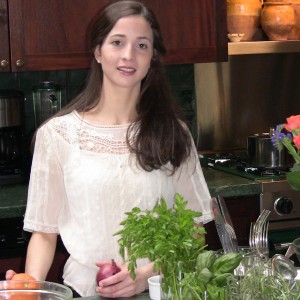 Julieta Liebhoff (Julie) grew up around food and flavors. Her family owned an Italian bistro and pasta store in Argentina, where she joined her mother in the kitchen learning how to work professionally. After working several years as a cook in the family business, Julie moved to Manhattan where she worked as an assistant to the pastry chef at one of the city's most popular restaurants. She later started working as a private chef and caterer in Manhattan, the Hamptons & Martha's Vineyard.
As a gourmet chef, Julie is dedicated to creating healthy, delicious food and providing convenient, time saving services for her clients. Offering personalized recommendations and support while integrating appropriate food choices with lifestyle options, she seeks to create the perfect balance between client and chef. Julie has maintained successful and lasting relationships with clients due not only to her professionalism, but also, to her fourfold strategy of focusing on:
What the client wants: The client's requirements and opinions are crucial to menu planning. Each menu takes into account the nutritional requirements and dietary sensitivities (allergies, etc.) of every person at the dinner table.
Quality of ingredients: To satisfy the sensitive and discriminating palate of her clients, Julie uses only the finest ingredients from the New York's finest grocery stores, including Dean and Deluca, Citarella, and Eli's.
Health and taste: Julie's culinary focus is not only good food, but good health as well. She coaxes the most intense flavors possible out of generally mild ingredients, while using low fat and low calorie count foods. Julie believes that when we take care of our bodies by eating healthy, we improve our mood and our energy level.
Portion control: The amount of food that a person eats is the most important factor in controlling weight and staying in shape. In planning menus for clients, Julie focuses on the quality of food and the optimal portion size.