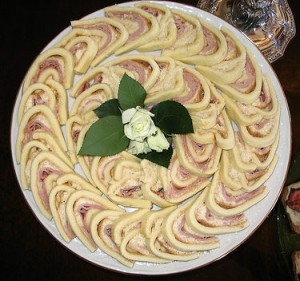 SALADS
1.Warm Goat cheese & meslcun salad.
2. French beans, grape tomatoes and sliced almonds.
3. Baby spinach, clementines, grape fruit, raisins & sliced parmesan cheese.
4. Heart of palms, french beans, cherry tomatoes & pancetta.
5. Frissee lettuce, pears, roasted peppers & radish.
EGG DISHES
1.Poached eggs, ham & English muffins.
2.Scrambled eggs with puff pastry, Gruyere cheese & bacon.
3.Scrambled eggs, smoked salmon , creme fraiche & french toasts.
4. Sunny side eggs, American cheese & pastrami.
5. Omelet *either plain or with cheese, mushrooms, vegetables & toasts.
*Sides of asparagus, mushrooms sauteed, tomatoes comfit, bacon, Swiss cheese or gruyere cheese.
SWEETS
1. Fruits salad.
2. Apple, Cinnamon & raisin crumble.
3. Waffles, berries & whipped cream.
4. Muffins: banana/nuts, apple/cinnamon/raisins, vanilla, blueberries, chocolate or clementine.
5. Chocolate cake with chocolate ganache or brownies.