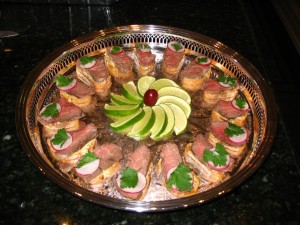 Hors D'oeuvres
Chicken skewers.
Chicken roulade filled with spinach. Dijon dressing.
Lamb meatballs & side of Greek yogurt & mint sauce.
Meatballs (pork or beef) & red sauce.
NY strip steak canapé.
Pork sliders.
Skirt steak skewers marinated in BBQ sauce.
Stuffed mushrooms with fresh herbs, onion & aged Gouda.
Baked clams oreganata.
Polenta squares with red sauce & Portobello mushroom.
Smoked salmon, crème fraiche & thin wafer.
Tuna ahi with Asian sauce, on top of tiny crackers.
Tuna tartar, avocado mousse & sesame rice cake.
Asparagus wrapped in prosciutto.
Endives filled with goat cheese, honey & nuts.
Eggplant roulade filled with tomato, mozzarella & basil.
Gazpacho.
Mini tomato pizza.
Shrimp cocktail Argentine style (with nuts, heart of palm, apple & Russian sauce) on a thin wafer.
Stuffed cherry tomatoes with mascarpone pesto.
Bruschettas (pick one):
Mushroom.
Pancetta, tomato & baby arugula.
Pear, blue cheese, walnut & honey.
Serrano ham & brie.
Sausage, tomato, cheese & peppers coulis.
Tomato, avocado & corn.
White beans, crispy bacon, parsley & lemon.